Mother's Day is May 12th
---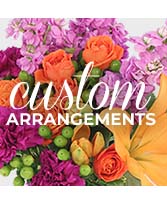 Custom Flower Design
Let us create a custom flower arrangement for you.
Order within 13 hours 41 minutes for Same Day Delivery!
Buy Now
How do I take care of my flowers once they are delivered?
As your mother is basking in the glory of her new beautiful florals, she will want to preserve that beauty for as long as possible. We have included a few fresh flower care tips to help. Feel free to send her this easy-to-follow guide once her flowers have been delivered.
First things first
If your flowers came in plastic wrapping, you would want to remove the plastic as soon as possible. This will allow the flowers to breathe. Secondly, you will want to give fresh water to your flowers to provide hydration. Place bouquets in a vase of appropriate size or fill your current vase with fresh water. If you need to, you can trim the stem's ends to fit a vase you have. We recommend cutting flower stems at an angle with a sharp knife.
Where you place your flowers can make a difference
Avoid placing your flower arrangements near areas of extreme temperatures: windowsills, direct sunlight all day, or an overly hot room. Too much heat or sun exposure can cause your flowers to dry out quickly or wilt. Cooler and more controlled conditions will be best to help preserve the beauty of your flowers.
Avoid placing your flowers next to fruit or in the vicinity of cigarette smoke. These can produce ethylene gas which can reduce the life of your flowers and cause them to die more quickly.
Maintaining a beautiful presentation
Keep your flowers looking fresh and displayed beautifully by tending to your flowers periodically.
For vase arrangements, keep your vase filled with water. This allows the plants to drink the water they need and provides them hydration.
For basket arrangements, we suggest still adding daily fresh water to your flowers.
Anytime the water begins to become cloudy, change the water out with fresh water. It would be good to clean the inside of your vase during this change before placing your flowers back into the vase. Using soapy water can help remove bacteria that could cause your flowers to deteriorate more quickly. Then make sure you rinse your vase thoroughly.
As wilting leaves or stems occur, remove the strongly wilted contents to allow the fresher parts to be the center of attention.
Using a sharp knife, cut your stems at an angle one to two inches from the bottom of the stem. This will help your flowers better absorb water. We recommend avoiding using scissors to cut your flowers. Scissors can crush the stems and hinder the flower from being able to absorb the water.